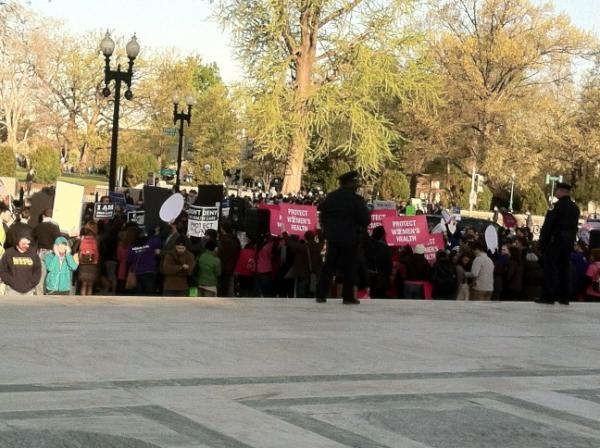 Days after a district court struck down a federal law barring speeches, protests and other demonstrations on U.S. Supreme Court property, the court has made a move of its own to ensure that protestors remain on the public sidewalk rather than on the courthouse steps.
Those who have visited the Supreme Court building — particularly on days the justices hear controversial cases like the health care law challenge or the disputes over same-sex marriage laws — know that demonstrators are barred from the court's large outdoor plaza leading up the door. For more than a half century, federal law has prohibited "processions or assemblages"  on the court's marbled piazza, and police regularly direct protesters to remain on the sidewalk in front of the courthouse. (DC Dicta snapped the above photo the day the health care challenge was heard.)
But Tuesday, D.C. District Judge Beryl A. Howell held that the federal law violates the First Amendment. "It cannot possibly be consistent with the First Amendment for the government to so broadly prohibit expression in virtually any form in front of a courthouse, even the Supreme Court," Howell wrote in the opinion, as a the Washington Post reported.
But don't expect to see marches on the court's plaza any time soon. Thursday the court issued a new regulation largely reintegrating the restrictions imposed by the law, which was posted on the court's website:
"No person shall engage in a demonstration within the Supreme Court building and grounds.  The term 'demonstration' includes demonstrations, picketing, speechmaking, marching, holding vigils or religious services and all other like forms of conduct that involve the communication or expression of views or grievances, engaged in by one or more persons, the conduct of which is reasonably likely to draw a crowd or onlookers.  The term does not include casual use by visitors or tourists that is not reasonably likely to attract a crowd or onlookers."
The regulation was imposed to "maintain suitable order and decorum within the Supreme Court building and grounds," and was approved by Chief Justice John G. Roberts Jr., according to the New York Times.
It is unclear whether the district court's ruling would apply to the rule, or if the judge's ruling will be appealed.