When the president gives his next State of the Union address, don't be surprised if the nation's chief justice is not sitting front and center.
Chief Justice John G. Roberts, Jr. said he found President Barack Obama's address to Congress  – during which the president chided the Court's campaign finance law decision and Justice Samuel Alito winced and said "not true" – to be "troubling."
"The image of having the members of one branch of government standing up, literally surrounding the Supreme Court, cheering and hollering while the court – according the requirements of protocol – has to sit there expressionless, I think is very troubling," Roberts said in a speech at the University of Alabama Law School yesterday.
Roberts said he was inclined to agree with Justices Antonin Scalia and Clarence Thomas, who stopped attending the president's addresses years ago. Sitting expressionless "like a bump on a log" while members of Congress cheer or hiss around the justices was unseemly, Scalia has explained. Thomas also eschews the atmosphere of "catcalls" and "whooping and hollering."
Roberts echoed their sentiment.
"To the extent the State of the Union has degenerated into a political pep rally, I'm not sure why we're there," Roberts said.
UPDATE: Here is video of Roberts' remarks, care of C-Span: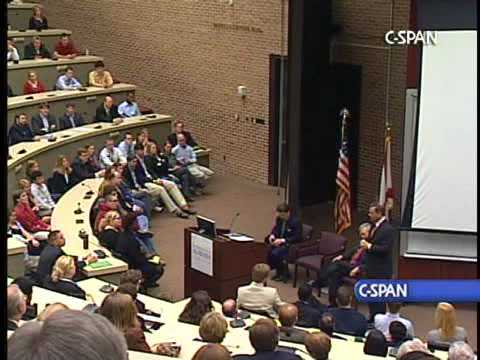 Roberts also said the Senate confirmation process for Supreme Court justice was "broken down," since it consists largely of lawmakers asking nominees questions they are prohibited by judicial ethics rules form answering. More here from the AP.