The candidates for president have been asked repeatedly which Supreme Court justices they admire. This weekend, at a forum hosted by Pastor Rick Warren of the Saddleback Church in Lake Forest, Calif., they were asked which justices they would not have nominated.
Sen. John McCain, the presumptive GOP nominee, named the four jurists of the Court's liberal bloc: Justices John Paul Stevens, Ruth Bader Ginsburg, Stephen Breyer and David Souter – even though McCain voted 'yea' along with 89 of his Senate colleagues to confirm Souter, a nominee of President George H.W. Bush, in 1990.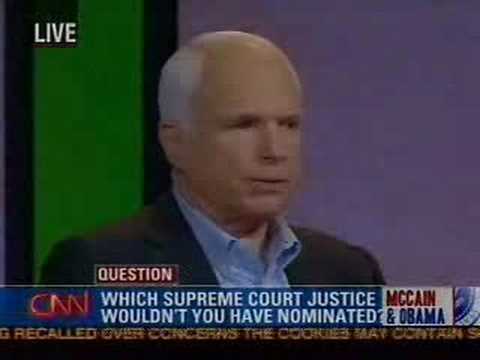 Democratic presumptive nominee Sen. Barack Obama, unsurprisingly, picked several of the Court's conservative jurists, although the reason he gave for one was a bit surprising.
Naming Chief Justice John G. Roberts, Jr. and Justice Antonin Scalia, Obama said he disagreed with their views, but respected their intellect. When it came to Justice Clarence Thomas, on the other hand, Obama said he didn't think the justice was the sharpest tack in the box.
"I don't think that he was a strong enough jurist or legal thinker at the time for that elevation, setting aside the fact that I profoundly disagree with his interpretations of a lot of the Constitution," Obama said of Thomas.
Justices Anthony Kennedy and Samuel Alito managed not the get the hook from either candidate.